Kanda Jinbocho: Curry, Coffee and Books
Tako

•

•

7 min read
This time I'm introducing my new favourite neighbourhood in Tokyo. Kanda Jinbocho is famous for 3 things; curry, coffee shops, and old books. We visited Curry Bondy, the most famous European curry shop here.
Kanda Jinbochou Curry Street
Jinbocho is also known as Kare no Machi カレーの街, or Curry Street. There are around 400 curry restaurants in this small town.
Why are there so many curry restaurants in Jinbocho?
‌‌Looking back at Jinbocho's history, the area used to be a school district with many education facilities and book stores. Jinbocho eventually developed into becoming a booktown with publishers moving in. Bookworms and students gathered in the area as well. What does this have to do with curry? Apparently, curry is a popular choice as it can be eaten with one hand holding a spoon, and a book on another hand. Another reason is that curry is cheap, which appealed to students.
What is Jinbocho's curry like?‌‌
Jinbocho curry ≠ Japanese curry‌‌. There's European curry, Indian curry, soup curry, and all types of curry in Jinbocho, not just Japanese curry. In fact, I recommend trying European curry when you visit as Japanese curry can be easily found elsewhere.
Curry Bondy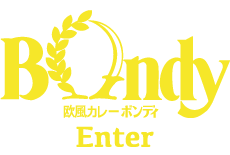 We went to Curry Bondy that was established in 1973. Curry Bondy, the first European Curry shop in Jinbocho, is part of the area's rise to fame as a curry town. After Bondy, many other curry shops started setting up shop in Jinbocho and now there are several European-style curry shops in the area.
We first knew about Bondy from Jashin-chan Drop Kick. After looking it up, we found out that it was a super famous curry restaurant and have always wanted to visit. Avoid going to the flagship store at peak hours, we learnt this the hard way. We queued for around 1 hour 45 minutes. Around 10 minutes in the queue, I walked to their second store (7 minutes away) to check it out.
There was no queue at all but Pancake who I left in the queue said it's almost our turn so I rushed back.
Well, the queue was deceiving. It's hard to see from the road but the queue leads all the way from the road through the inside of the building and up the stairs. After around 1 hour we reached the stairs to encounter this sign.
Total time elapsed 1 hour 17 minutes. 🥲
Much regrets, should have went to the second store. Once we were seated, our food  arrived in about 5 minutes or maybe less.
The seafood curry consisted of fried fish slices, prawns, clams, mushrooms, pork, and a cheese fritter. The beef in Pancake's beef curry was super duper tender, almost like beef stew. The curry was very smooth and thick with a strong buttery smell and flavour. My seafood curry was slightly sweeter than Pancake's beef curry, probably because of all the extra ingredients and flavours that went into it. Do note that the cheese is already included with the set at no extra cost, although you can add even more cheese at an extra cost.
For the spiciness level, we chose chuukara 中辛 (medium) and have to say that it is spicier than the usual chuukara that you would expect from a typical supermarket curry roux . We overheard Bondy's staff explaining to another customer that Bondy's chuukara is spicier but still recommends it for people that could take spicy food.
It's been a while but time for Tako and Pancake's food ratings!
Seafood Curry‌‌
Tako: 💙💙💙💙‌‌
Pancake: 💛💛💛💛
Beef Curry‌‌
Tako: 💙💙💙💙‌‌
Pancake: 💛💛💛💛
And they're tied! ‌‌Curry is served with rice topped with cheese and 2 small boiled potatoes.
There's nothing really special about the potatoes. Just 2 of them, small, boiled. Still, you might not be able to finish them if you're a light eater.
On your table, you'll find a set of condiments/toppings to pair with your curry.
For dessert, we ordered the pudding.
I kind of hated the wooden spoon. It was too big for the teeny tiny container.‌
Bondy Pudding
Tako: 💙💙💙💙💙💙💙+++
‌‌Pancake: 💛💛💛💛
I would die for this pudding. Get it!
Gavial
I visited Gavial for work the last time with some of my colleagues. We were at the restaurant at 11am just went it opened so there were no crowds. Around 11:30 the place was flooded with customers on lunch break.
Gavial, established in 1982, serves European curry just like Bondy. Compared to Bondy, the atmosphere and decor are more classy where Bondy was more cosy and comfy. It was also a lot more spacious and brighter. At the same time, Gavial's prices are higher at give or take 100~200yen.
On weekdays, they have special lunch set from 1200yen~. It's much cheaper than the regular menu price but you also only get 1 potato. The rice also comes topped with cheese like Bondy's, which we didn't know so we ordered extra cheese. 🧀
Gavial Scallop Curry‌‌
Tako: 💙💙
I would probably have given Gavial 3 hearts if I hadn't gone to Bondy. After having Bondy, I can say that Gavial's European curry is more Japanese than European. It is on the sweet side and since I ordered amakuchi it was a little too sweet for my liking. They gave quite a lot of vegetables though - pumpkin, tomato, eggplant, okra. For condiments, they don't have raisins but have shallots and pickled vegetables.
GAVIAL'S POTATO THOUGH! The potato was so so good.
Gavial Potato‌‌
Tako: 💙💙💙💙
If Bondy served Gavial's potato, they would get 5 Tako Hearts from me. How do I describe Bondy's potato... It's like a solid mash potato. So creamy, and when you add the butter 🤤 I'd go back just for that potato.
Kanda Jinbocho Cafes
Jinbocho, just like Shimokitazawa, has many many good coffee shops to visit. After our late lunch at Bondy, we went to Ladrio.
Ladrio is one of the oldest cafes in Jinbocho having opened in 1949. They just celebrated their 72nd opening anniversary in October last year (2021).
Ladrio's interior can only be described as antiquated, or to put it less nicely old or shabby.
With dim yellow lighting, brick-stoned walls, and an anqitue pendulum wall clock that chimes.
I ordered Ladrio's Vienna Coffee, apparently they were the first to offer it in Japan. Vienna Coffee is coffee topped with whipped cream. Pancake got the blend coffee (600yen).
Ladrio Vienna Coffee
Tako: 💙💙💙💙
Pancake: 💛💛💛💛
Ladrio Blend Coffee
Tako:💙💙💙
Pancake: 💛💛💛 + 1/2
Ladrio is also famous for their melon soda and napolitan pasta. We were still full from curry rice not to mention cold so we opted for hot coffee. Ladrio's accepts cash payment only.
Future Plans
We plan to visit Bondy's other branch next time we visit. I'm curious why their business is so lacking in comparison to the main shop. If their curry is just as good then I would go there? Saves a lot of time. For coffee, we'll try one of the many other coffee shops in the area.
Until next time~ 🐙