Tohoku 2022 Day 1: Hirosaki, Aomori Prefecture
Tako

•

•

11 min read
22-25 September 2022, we had a 4D3N trip through Tohoku:
1st Day: Hirosaki, Aomori Prefecture
2nd Day: Lake Towada, Akita Prefecture & Sendai, Miyagi Prefecture
3rd Day: Matsushima Bay, Miyagi Prefecture
4th Day: Sendai, Miyagi Prefecture
JR East Pass for Foreigners (wurf!)
Since a 1-way Shinkansen ticket from Tokyo to Hirosaki already costs 17,000 yen, we decided to get the JR East Pass (for Tohoku area).
The JR East Pass is available to foreigners only, you'll need your passport to buy it, and you'll need to carry your passport with you at all times when using it. It can only be purchased 1 month in advance of your travel date. Make sure to read the terms and conditions on the back of the ticket.
Price: 20,000 yen
Validity Period: 5 days
Coverage: Unlimited Shinkansen, JR services (trains, buses)
💡 Remember to collect your pass when passing through ticket gates.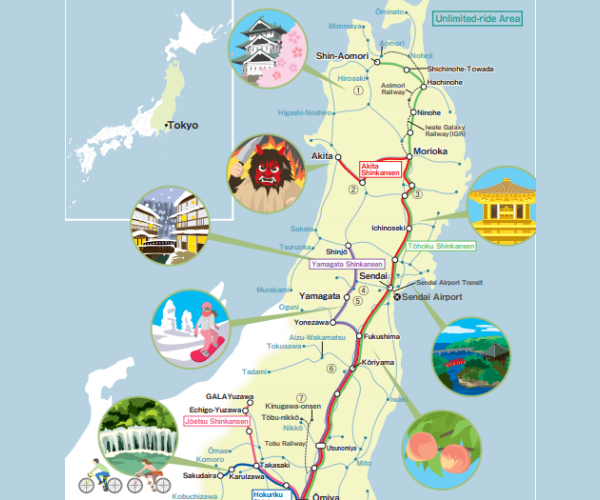 Tokyo ➡️ Hirosaki
There's no direct shinkansen to Hirosaki from Tokyo. The furthest the shinkansen could bring us was to Shin-Aomori Station, and from there we switched to a local train on the JR Ou Line bound for Hirosaki Station.
💡 Trains between Shin-Aomori & Hirosaki Station come once every 30 minutes!
Hirosaki is a countryside so even though it's a tourist destination, public transportation is infrequent compared to Tokyo, though still better than other more rural areas. If you miss the local train or bus, you'll need to wait quite awhile for the next one... Buses come in intervals of 20-30 minutes. If you don't want to have your itinerary be restricted by public transportation times, consider renting a car or using taxi (cheaper than Tokyo).
💡 Can't use IC cards in Hirosaki, only cash for ticket gates and buses.
JR Hirosaki Station is connected to a shopping mall that has some souvenir shops. We got some of our souvenirs there before heading off to Sendai on the 2nd day, but choices are quite limited so if you see something you like whilst exploring Hirosaki, don't hesitate to buy it.
Hirosaki Apple Park 弘前りんご公園
We missed the bus that goes to Hirosaki Apple Park, and the next one was in 30 minutes (...), so we took a taxi. It costed 1,800 yen, worth paying since it saved us an hour (3o minutes to wait for the bus, 30 minutes for the bus to reach Apple Park).
The weather was great, nice clear blue skies, which means an excellent view of Mount Iwaki! Lucky considering the past few days was gloomy wet weather 'cause of typhoon. Even the staff were taking photos.
If you're looking to try apple pies and apple dishes, the cafe & restaurant here is a great choice. After signing up for apple-picking, we had our first try of Hirosaki's famous apple pies! and a frozen apple dessert to mix things up a bit.
After that we went apple picking which was free, we only had to pay for the apples which costs 36 yen for 100g. However, each person can only pick 3 apples. Our guide was a friendly old man with a strong Tohoku accent, it was quite difficult to understand his Japanese at times. He was very nice and exchanged small talk with us and another 2 people in the apple picking group. He recommended we check out an old traditional building in the park where neputa used to be made.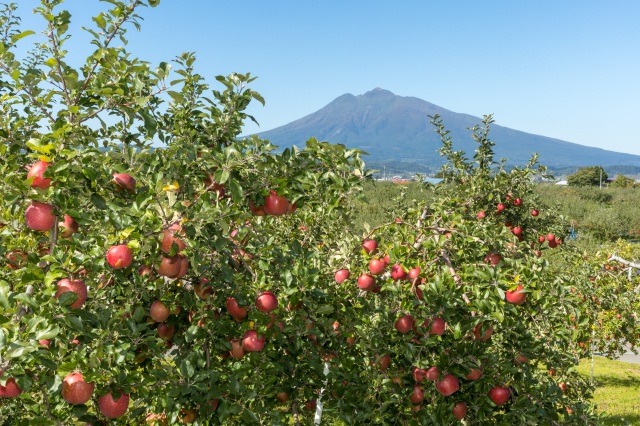 Hirosaki Castle Park 弘前公園
Next, we made our way to Hirosaki Castle that's famous for being one of the most beautiful cherry blossom spots in Japan with its sakura moat in spring. But first, we dropped by this beautiful Starbucks.
Hirosaki Park Front Starbucks
The custard apple pie made with local Aomori apples was one of the best we had in Hirosaki. Make sure to try it! The atmosphere inside the Starbucks was also cosy and quite different from the other Starbucks in Japan. It has a mixed Western and traditional Japanese interior design, pretty cool.
Done with our tea break, it was time for the main event - Hirosaki Castle. Hirosaki Castle is located in Hirosaki Park. It's free to enter except for the charged areas - Hirosaki Castle Keep + Kita no Kuruwa and Botanical Gardens. I recommend getting the 520 yen set ticket which includes the 2 areas above plus Fujita Memorial Garden.
The set ticket is really cute and makes for a nice souvenir. When you enter a charge area, the ticket gets chopped to show you've used it up. You don't have to enter all 3 areas in one day, the ticket counter staff told us that as long as the area is not chopped, you can use the ticket any other day.
Hirosaki Castle Botanical Garden 弘前城植物園
We chose a really, really bad time to enter. It was between seasons at that time, end of summer and beginning of autumn, so summer flowers were dead or dying and autumn flowers hasn't bloomed. 🤯
I think if we came at the right time this place would have been beautiful, especially the rose garden. It was still a pleasant walk though.
Hirosaki Castle 弘前城
Nothing much to say about Hirosaki Castle, except it's a lot smaller than I expected. The stone walls were being renovated, so the castle was moved to a different location - cool! A video about the moving process was playing inside the castle, it was seriously cool though.
We climbed to the top of the castle keep. And, it was super scary. The stairs were so steep, I have no idea how soldiers could run up them to defend from the top floor.
The small windows are from where soldiers would shoot arrows at enemies. And holes in the floor were were stones would be rolled down the stone wall to attack enemies climbing up the walls.
Fujita Memorial Garden 藤田記念公園 & Western Buildings
Although included in the set ticket, Fujita Memorial Garden isn't actually part of Hirosaki Park, instead it is further down from the Starbucks in the direction away from the city office (市役所). I definitely recommend visiting the Garden, it's really beautiful.
Taisho Roman Tea Room 大正浪漫喫茶室
A must-visit in Hirosaki is the Taisho Roman Tea Room and its historical building that was once the family villa of the Fujita Family. It is located outside the charged area of the Fujita Memorial Garden so you don't need to get a ticket if you want to dine here.
They are open until 16:30 (last order 16:00) but the lunch menu is until 15:00 only. We were planning to have apple curry here but arrived too late, had another round of apple pies instead which were all so good (still some were better than others). They also had other apple desserts like apple creme brûlée and apple crepes. Don't order the apple juice by the way, it was unexpectedly bad...  
Fujita Memorial Garden 藤田記念公園
Trust me! This is a must-go! Just pay for it, it's worth it. The most beautiful garden in Japan I've been in so far. I found it more beautiful than Ginkakuji and Rikugien Garden.
It's really too beautiful to put into words. Even Pancake took lots of photos which is a rarity for him. There are many beautiful photo spots and key decorations to focus your camera on. Take your time going around the garden, the scenery looks and feels different from each corner.
Salon de cafe Ange サロンド カフェ アンジュ
An alternative location to get apple curry is Salon de cafe Ange in the Former Touou Gijuku Missionary Residence. The restaurant cafe is open until 18:00 so plenty of time to have a late lunch or early dinner.
We enjoyed the apple curry very much but the pasta dish was ordinary at best, should've gone with 2 orders of the curry! From the restaurant's dining area, there's a view of miniature Western buildings that we visited later on.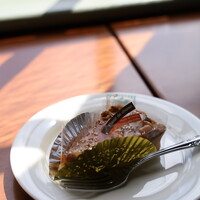 Other Places to Visit Nearby
The surrounding area has many Western buildings to explore though many of them close quite early. Some are free to enter, like the 2nd floor of Salon de cafe Ange whilst some has an entrance fee. I really wanted to visit the church but it was getting late.
The 1st Floor of the Hirosaki Tourism and Convention Bureau building has a large selection of souvenirs. Definitely recommend going here to buy souvenirs, a lot of the stuff here aren't available at JR Hirosaki Station. There are also some Neputa exhibits in case you don't have enough time to visit Tsugaru-han Neputa Village.
Tsugaru no Sakedokoro Watami 津軽の酒処わたみ
We had a late dinner at an izakaya right outside our hotel, Art Hotel Hirosaki City. They served Tsugaru cuisine (this area's traditional cuisine ) too so gave it a try. Another good place to try Tsugaru cuisine is at Tsugaru-han Neputa Village.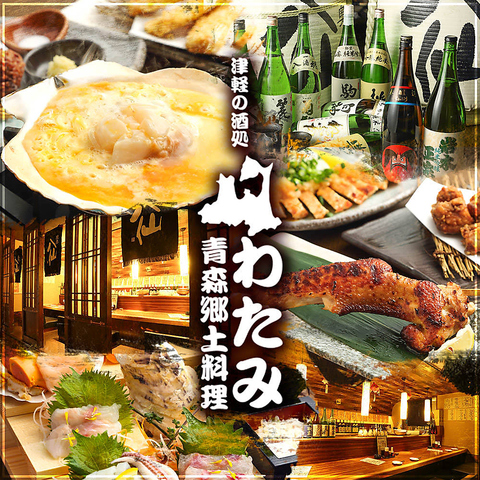 That ended our first day in Tohoku.